Happy Smiles Meridian
Local, Kid-Friendly Dentists
---
Your child's journey to dental health begins here at Happy Smiles. Our MS licensed family dentists are dedicated to delivering healthy smiles that last a lifetime. We are proud to serve the Meridian, Mississippi community and look forward to meeting you!
Monday-Thursday: 8am - 5pm
Friday: 8am - 2pm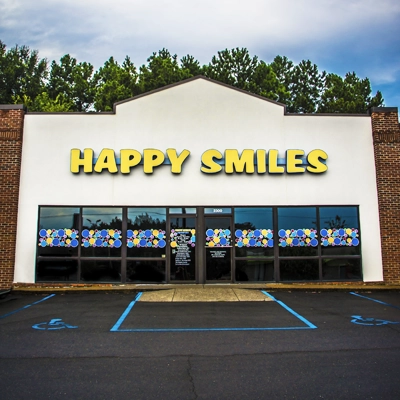 ---
Welcome to Happy Smiles!
Our crew is committed to making your child's dental experience as comfortable and fun as possible. We guarantee to help our patients with the tools they need to build great oral habits! Happy Smiles provides financial options to ensure your child gets the dental care necessary for them.
Dental Services
Our award-winning office in Meridian delivers top-quality dental care regardless of family income in a fun and upbeat environment. See why Happy Smiles is right for your child with these services:
Visiting Our Dental Office
Our family-friendly office is located on Hills Street in the heart of Meridian. Look for the big tooth sign, and check out our incredible kids movie theatre theme inside!
Finding Us
From Southwest

- Via 29th Ave.


Head North on 29th Ave. until you pass Northwood Country Club and take a LEFT onto N Hills St. You'll continue on N Hills St. for about 1 mile, then turn RIGHT just after the McDonalds, Taco Bell, and Take 5 Oil Change and arrive at our office.
From the South

- Via 10th Ave.

Head North on 10th Ave. until you pass Meridian High School and take a RIGHT onto 36th St. Then turn LEFT at the next cross street onto Poplar Springs Dr. Head North for about 1 mile, and turn LEFT onto N Hills St. Turn RIGHT just after the Take 5 Oil Change and arrive at our office.
From Northwest

- Via State Blvd..


Take MS-19 to State Blvd Ext and continue onto State Blvd heading East towards Meridian. After passing Colonial Pipeline, turn LEFT onto N. Hills St and continue for 2 miles. Turn LEFT into Happy Smiles just past the KFC and directly across from the Texaco Station.
From the East

- Via US-45

Head North on US-45 and take the Exit for Marion/Russell. Once you reach the end of the exit, turn LEFT onto NE Industrial Park Rd, and continue straight to Lindley Rd. and onto N Hills St. A 1/4 mile past the BankPlus, turn RIGHT just after McDonalds, Taco Bell, and Take 5 Oil Change to arrive at our office.
Schedule an appointment with our trusted family-favorite dentists today!
All services are provided by MS licensed general dentists.
---